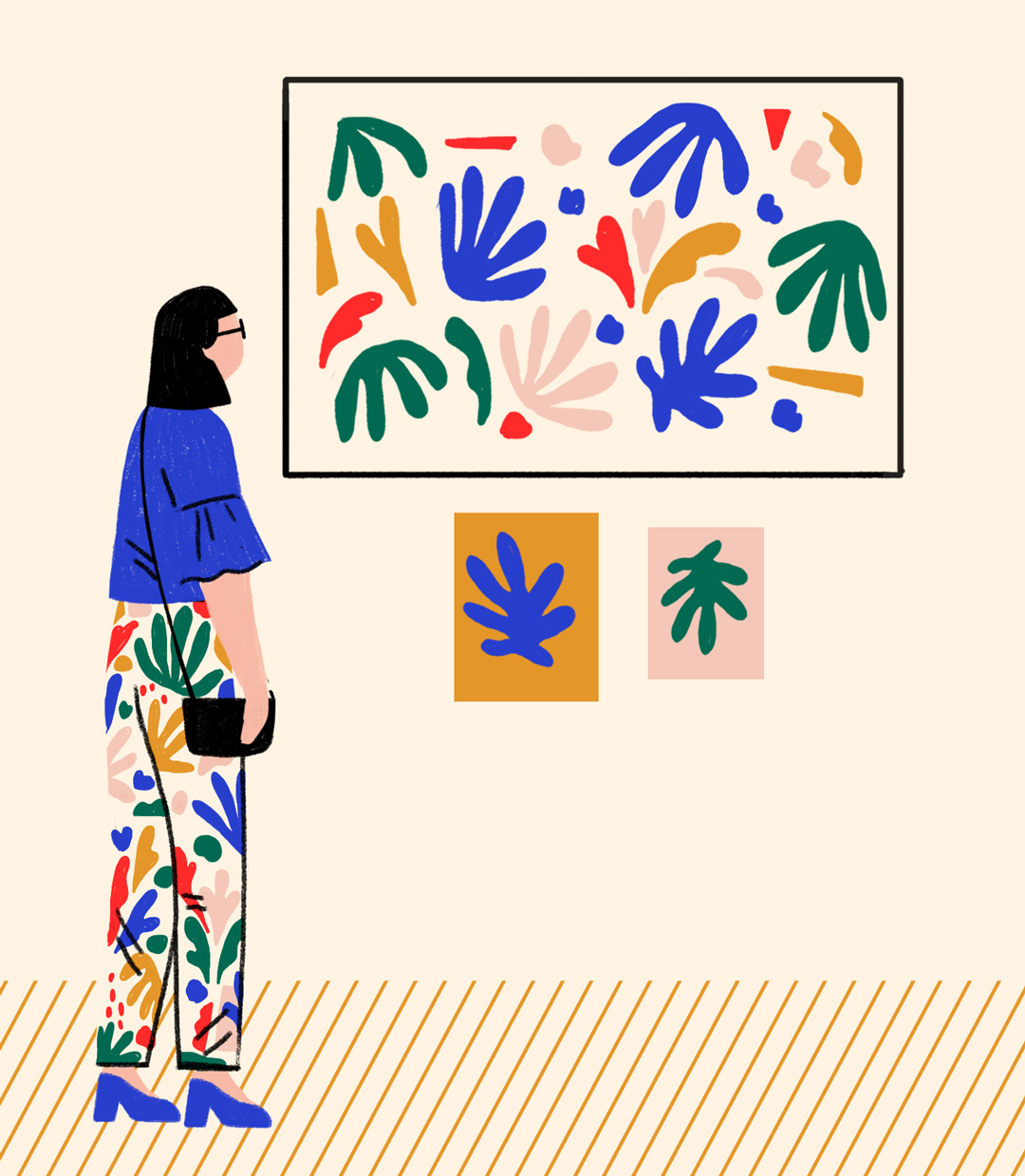 If you've fol­lowed my Insta­gram for a while, you've prob­a­bly seen the work of Abbey Loss­ing. I became enam­ored with her por­traits that com­bine styl­ish ensem­bles, a lim­it­ed col­or palette, and nature-inspired motifs. By day, she's a staff illus­tra­tor and ani­ma­tor at Vice News, but she also main­tains an active port­fo­lio of per­son­al work.

"I usu­al­ly brain­storm in the morn­ing over a cup of cof­fee," she tells me in an email. "I wish I could say I had a method­i­cal inspi­ra­tion process that worked for every assign­ment, but hon­est­ly that's not real­ly the case." Some­times, the ideas come easy and she quick­ly cre­ates rough sketch­es she's hap­py with. "Oth­er times the brain­storm­ing process is a bit more labo­ri­ous and con­fus­ing. In those cas­es, the only thing I real­ly have going for me is tri­al and error. I'll just keep com­ing up with ideas until I have a few I think are worth push­ing further."
And if all else fails, tidy up. "If I'm feel­ing real­ly unin­spired I think the best thing is to take a break and go for a walk or straight­en up my apart­ment. Some­times I just need to step away and and come back with a fresh mindset. "
Abbey's work demon­strates the impor­tance of being true to your­self. "The habit that has helped me the most thus far in my career has been to ded­i­cate time for per­son­al work," she explains. "I love work­ing on assign­ments with clients, but I think carv­ing out some time once a week to make some­thing just for fun is real­ly impor­tant, and it has had a huge influ­ence on my work." So go ahead, doo­dle in your sketch­book a lit­tle longer. And, be sure to fol­low Abbey on Insta­gram!
By day, Abbey Lossing is a staff illustrator and animator for Vice News. After work hours, she creates digital illustration that's a combination of stylish ensembles and nature motifs.