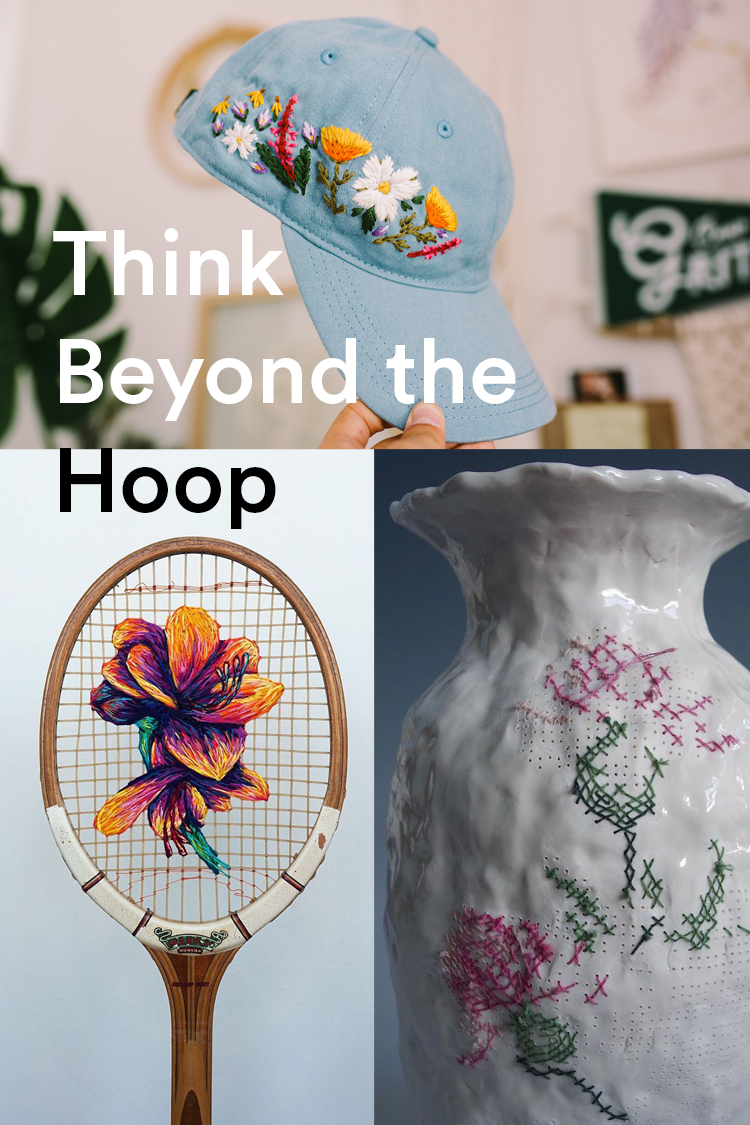 This article is brought to you by Brown Paper Stitch, my business that makes your wardrobe pawesome by embroidering your pets on clothing.
This arti­cle is part of a series on how to take your embroi­dery to new heights.
Over the many years that I've writ­ten on Brown Paper Bag, I've seen a ton of stitch­ing. It's inspir­ing but it can also make me feel a bit lackluster—there are so many tal­ent­ed peo­ple out there!
If you're some­one who scrolls through Insta­gram and feels total­ly envi­ous of all of the beau­ti­ful stitch­ing you see, you might be wish­ing you could har­ness even a lit­tle bit of that creativity.
So, where do you start? Over the next many Mon­days, I'll be shar­ing lessons of what I have seen and learned.
The first lesson: Think beyond the hoop.
Feel­ing cre­ative­ly sti­fled by the embroi­dery hoop?
The embroi­dery hoop is not a rule. It's mere­ly a sug­ges­tion of where to stitch. You can cre­ate awe-inspir­ing effects that extend out­side of the cir­cle. Heck, maybe you get rid of the hoop altogether.
Whether you are braid­ing thread, attach­ing felt­ed wool sculp­tures, or mere­ly using the hoop for sta­ble stitch­ing, think about how you can go big­ger. Maybe it's keep­ing the hoop and hav­ing floss extend beyond it. Maybe you are stitch­ing on cloth­ing (like me!).
Check out some ways in which artists working in embroidery have thought outside the embroidery hoop to create original designs.